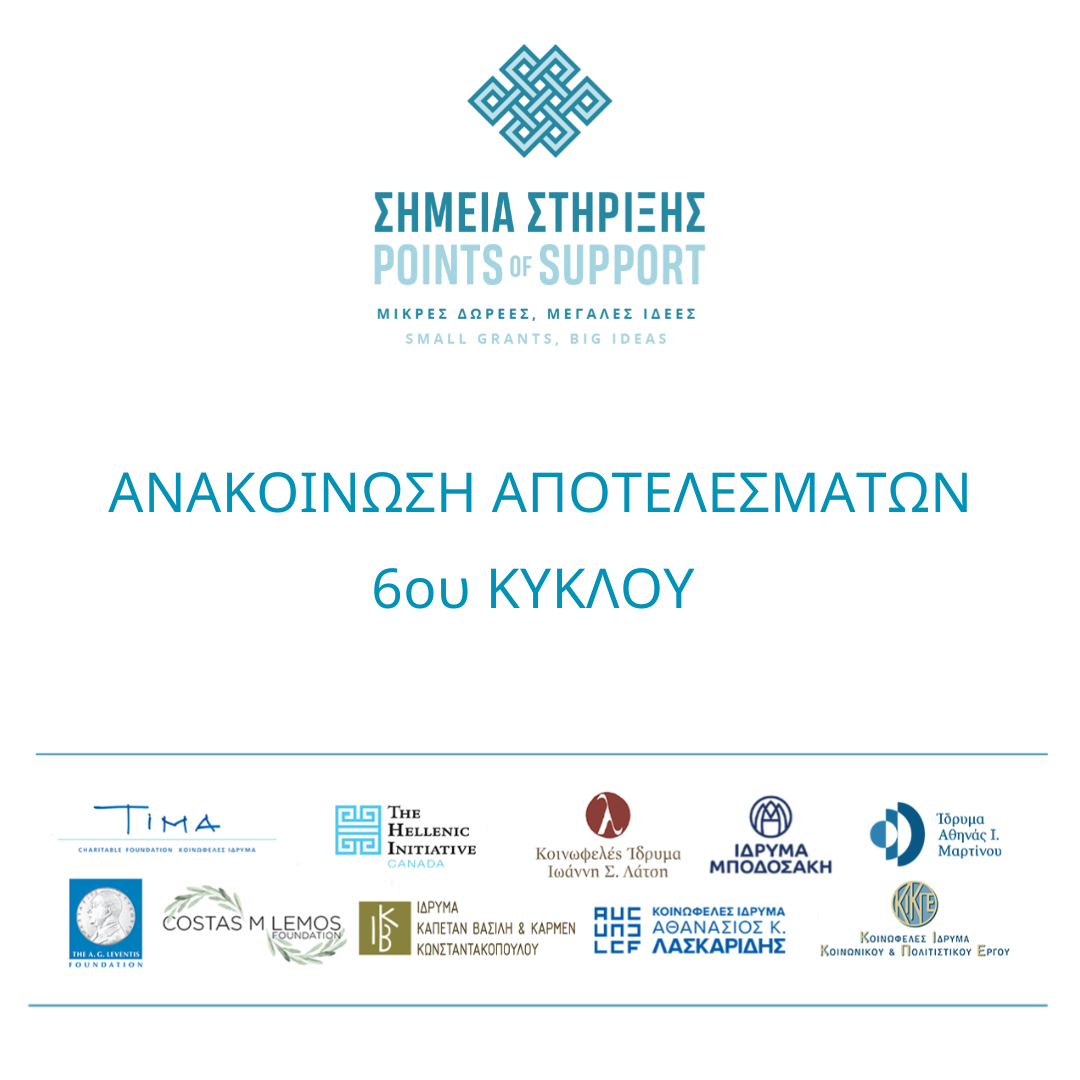 Listed below are the 38 projects that have been selected to receive grants under the sixth round of the "Points of Support" program for 2023-2024.
Taking part in the sixth round of the program, which began in 2015 and has funded 119 projects with more than 66,000 beneficiaries, are the John S. Latsis Public Benefit Foundation, the TIMA Charitable Foundation, the Bodossaki Foundation, the Captain Vassilis and Carmen Constantakopoulos Foundation, the A. G. Leventis Foundation, the A. C. Laskaridis Charitable Foundation, the Costas M. Lemos Foundation, the Social and Cultural Affairs Welfare Foundation (KIKPE), the Hellenic Initiative Canada, and the Athina I. Martinou Foundation.
The aims of the program are, on the one hand, provision of support for small-scale original projects with the highest possible social impact and, on the other hand, reinforcement and capacity building for Greek civil society organizations, with priority given to those of small and medium size, as a means of bolstering the development and effectiveness of their work.
The 38 projects that have been selected* out of a total of 150 applications will be granted an amount of up to €5,000 each. The projects will be implemented by 50 Civil Society organizations, 12 of which will participate in the projects as partner organizations, over a period of six months. In addition to the funding, the selected organizations will also take part in free capacity building activities, which will be designed, funded and implemented by Social Dynamo, the NGO hub of the Bodossaki Foundation.
The full list of the organizations selected to receive grants follows below, by program area, as defined by the Program's respective donors:
Ι. "Social Integration of People with Disabilities" (Donor: John S. Latsis Public Benefit Foundation)
Best Buddies Greece (bestbuddiesgreece.gr) – Staff training and empowerment of people on the autism spectrum in Attica aimed at their integration in the labor market, in collaboration with Tact Hellas Training and Consultation.
Traditional Chinese Martial Arts Sports Club Acharnes (acharneskungfu.com – Organization of inclusive training sessions and Wushu – Kung Fu lessons for children with disabilities, in collaboration with special educations schools in Attica.
Technology without Borders (techwb.org) – Training of people without visual impairments on blindness, though a nationwide social media campaign.
ALL: Accessible Limitless Living AMKE (all.org.gr) – Vocational strengthening of people with mental and developmental disabilities in Thessaloniki, in collaboration with the Social Cooperative for Collective and Social Benefit "Wellbeing, Culture, Art, Tourism, and Disability" (EPTTA).
"ESTIA" Association for the Protection of People with Autism Spectrum Disorders (ASD) (estia-epirus.gr) – Creation of a gym with specialized exercise equipment for children with disabilities in Ioannina.
Heath Route Social Cooperative (poreia-ygeias.gr) – Development of career readiness and social entrepreneurship skills for People with Disabilities in the Regional Unit of Magnesia.
Equalact Social – Action for Social Equality PwD – Development of innovative urban farming practices for the production of products and the employment of People with Disabilities in Attica, in collaboration with the Community Center of the Municipality of Cholargos-Papagos.
Off Stream – Innovation and Accessibility in Culture – NGO (offstream.org) – Educational activities in museums addressed equally to people with and without sensory impairments, in Athens and Thessaloniki, in collaboration with Smiyl – School of Greek Sign Language.
ΙΙ. "Support for the Elderly" (Donor: TIMA Charitable Foundation)
ΙΙΙ. "Prevention and Health Promotion for Adults" (Donor: Social and Cultural Affairs Welfare Foundation – KIKPE)
Organization of Cancer Patients and Friends of Rodopi "Dynami Psixis" (dynamipsixis.gr) – Awareness-raising for new students on bone marrow donation upon entry to the country's educational institutions, in Komotini and nationwide, in collaboration with Synapseis NGO.
Association for Research and Education in Clinical Skills – ARECS (arecs.org.gr) – Relief for cancer patients and their escorts through Art in Thessaloniki, by the use of virtual reality, in collaboration with K3 – Cancer Guidance Center.
Pancretan Association of Blood Donors and Organ Donors – Hematocrete (aimatocritis.gr) – Awareness-raising and reinforcement of blood donors in Crete
IV. "Children and Health" (Donor: Captain Vassilis and Carmen Constantakopoulos Foundation)
Cyberno NGO (cyberno.org) – Training of educators and children with disabilities in Thessaloniki, on the correct use of the internet and the social media, aimed at protecting the children from incidents of sexual harassment.
"Erifyli" Social Cooperative (erifyli.org) – Information, awareness-raising and training on the prevention of eating and mental disorders related to body image for children in Patra.
Anassa (anassaart.gr) – Online workshops for children, parents and educators in Attica, aimed at alleviating the fear of medical examinations, in collaboration with the Physiology Laboratory team at the University of Athens Medical School.
V."Alleviation of Poverty and the Food Crisis" (Donor: The Hellenic Initiative Canada)
Humanity Greece (NGO) (humanitygreece.org) – Distribution of food and support parcels from the social soup kitchen in Attica, in collaboration with Art HUB Athens NGO.
Association of Three-Child Families of Drama (triteknoidrama.blogspot.com) – Awareness-raising, food distribution and experiential workshops for school children in Drama regarding food security, responsible consumption and alleviation of poverty.
Society for the Preservation of Traditional Handicraft "Kovo, Ravo, Dimiourgo" (koptikiraptiki.gr) – Teaching the "kilim" traditional weaving technique to women at risk from poverty in Patra, with the aim of creating handmade products under an integrated brand, in collaboration with Co2gether NGO.
VI. Environmental Protection:
i.  "Protection of the Flora and Fauna in the Urban and Peri-urban Environment" (Donor: A. G. Leventis Foundation)
"Alkioni" Wildlife Care and Protection Association (alkioni.org) – Provision of two satellite transmitters for monitoring wild animals after their release, and education of volunteers in caring for wildlife in Paros.
Society for the Care and Protection of Stray Animals – Stray.gr (straygr.gr) – Pilot implementation of a stray adoption program in schools in Attica, aimed at changing the collective mentality on animal rights.
ii. "Protection of Aquatic Ecosystems: Lakes, Rivers and Wetlands" (Donor: A. C. Laskaridis Charitable Foundation)
Evolving Cycles NGO (evolvingcycles.com) – Production of eco-friendly fertilizers with the aim of protecting terrestrial and aquatic ecosystems, by a group of female abuse survivors in Crete, in collaboration with the Municipality of Chania.
Ehedorou Fysis NGO (facebook.com/ehedoroufysis) – Removal of waste and restoration of the ground at the estuary of the Gallikos river, and awareness-raising for students on preventing the phenomenon of pollution in the area.
iii. "Protection of Forest and Other Terrestrial Ecosystems" (Donor: Costas M. Lemos Foundation)
 VII. "Social Innovation in Small Seaside Local Communities" (Donor: Athina I. Martinou Foundation)
*Note:  The final selection of the organizations that will receive funding will be confirmed in September 2023, upon completion of the contractualization process between the above 38 organizations and the Program's donors, who reserve the right to replace short-listed organizations that do not meet the relevant criteria of the process in question.